Kel Tec was gracious enough to sent out out of their SU-16CA rifle for us to do a review on a few months ago and I have been trying to push this gun to its limits and it has exceeded my expectations.

Caliber: 5.56 NATO.
Magazine: (2) 10 Round detachable box. Accepts standard NATO M16/AR magazines.
Barrel: 18.5″
System of Operation: Semi-automatic
Overall length: 36" open 25" folded
Weight (unloaded): 4.7 lbs
This was a fun gun to review. The end tally of rounds we shot through this rifle before shipping it back was 1700+ rounds.
I had read a number of different other reviews on this rifle before we got our hands on it and I noticed most of them said that they liked the gun and it was easy to use and blah blah blah nothing really exciting that made me want to buy this gun for any other reason than it was reliable. I wanted my review to be focused in a different direction other than just a few range reports. As I mentioned before we shot little over 1700+ round through it, during that time (Kel-Tec in no way suggests or recommends in anyway that you do or try this with your rifles) we never cleaned the rifle over a 2 1/2 month time period.
The rifle uses a piston gas system which limits the amount of gas sent back into the chamber making the rifle run in some cases cleaner. (Due to some problems with my camera while I was cleaning the rifle to be shipped back I didn't get the chance to take pictures of the rifle dismantled to show you the piston)
I pulled the rifle straight out of the box and took it to the range. Normally I would strip the rifle down and oil the rifle myself but I felt if I was going administer this test I should show using the oil Kel-Tec uses vs. the over oiling I like to do on my rifles. First 1001 rounds we shot no problems the gun functioned beautifully. Round 1002 we had our first failure to feed so we chambered the next round shot fine but chambering the next 3 rounds seemed slow 1006 and 1007 both ejected the spent brass but did not feed the next round. I pulled the bolt and piston grouping out of the rifle put two drops of gun oil on the piston rod put the gun back together and the rifle shot just as if it was just cleaned and oiled.
Over the next 6 weeks we finished putting the last 700+ through the rifle and it shot beautifully.
The fore grip on the rifle is also a bipod which I found in the seated position didn't work very well and bounced all over the table and sometimes would completely collapse after taking your first shot. I never tried shooting from the prone position but I have a feeling that it would be similar to what I found when standing with the rest on a table which was that it was a bit more stable but still not as good as the shooters rest we have out at the range.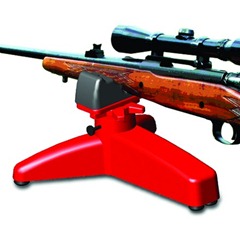 Shooters rest.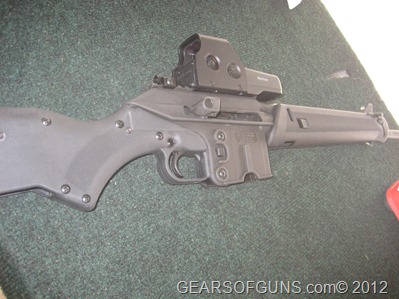 Like I said in the first half I really enjoyed this rifle so I will just jump right into the review
POLYMER FRAME: The rifle is made up of mostly polymer which makes the gun very light weight at only 4.7 pounds. Whereas an AR-15 is about 7 pounds.
SAFETY: The safety on this rifle is simple. it is just a push side to side button with a red ring on the fire side. I like to live with the K.I.S.S. mind set which is Keep It Simple Stupid.
PISTON: Similar to that of the AK family this rifle uses a piston system. This seems to it the bolt and chamber cleaner. as you read about in our 1700+ round testing.
ACTION: this rifle is a piston driven system which seems to make this rifle cycle beautifully.
FELT RECOIL: (While this rifle is threaded for a muzzle device Kel Tec does not thread one on to this rifle.) The recoil was surprising to me when doing a side by side comparison to my AR-15 with a flash hider as the SU-16 had lower felt recoil.
MAGAZINES: The rifle comes with (2) 10 round polymer mags in a carrying well in the folding stock. The stock also supports the use of a 20 round AR magazine in place of the 2 ten round mags. They designed this mag well to be that of the AR-15 mag wells to support the use of AR-15 mags (including beta mags). One thing we did notice was that the last 2 rounds in my 4 of my polymer sig mags did not seem to want to chamber.
FIELD STRIPPING: To take this gun apart to do basic cleaning is as simple as using the bullet to push a pin out in the stock. (cleaning the bolt carrier group is a little bit more than just that but for the review we are only talking about taking the gun down to is basic parts)
ACCURACY: I will not lie and say I am the best shot in the world or that I am even a great shot (since breaking my back I cannot hold still). With all that being said I was still able to hold 5 shot quarter size groupings at 50 yards
SIGHTS: I liked the iron sights they sent out with the rifle but I can't really place my finger on why that is. I used both an EOtech and a 3-9×42 scope but I still preferred the use of the iron sights. Go figure!
RAILS: The rifle only has the short rail on top which meant I couldn't use my lasers and other TOYS much needed accessories. Kel Tec does sell a fore grip that replaces the bipod that has more rails on it.
FOLDING STOCK: I loved that stock folds under the rifle making the carry in a backpack or storage of the rifle take up less room. Some people are not a fan of this so Kel Tec also makes a replacement stock and pistol grip that is easy to install.
OVERALL THOUGHTS
I shot over a 1000 rounds through this rifle and I have to say I wish I didn't have to send it back because this was a comfortable and easy to shoot rifle.
This rifle has the best of a lot of worlds with its bipod, piston, folding stock, mag holder, polymer frame. all around just a GREAT gun!
With the prices of a basic "cheap" AR-15 hitting close to $1000. The SU-16CA rifle coming in MSRP as $770 (VERY VERY HIGH and in most cases can be found cheaper) this is a good buy for a .223/5.56 rifle.